One of the greatest times of the year! Triple Crown time!!! Many of you know, and will learn soon, I love horse racing inside and out, the good and the bad. Entries for the 20 horse field were drawn tonight. For me, this years edition is wide open. I like a lot of the horses for one reason or another. Here are my top nine picks for the race.
Visiting Lawyer Ron, sire of Overanalyze the day after his retirement from racing.
Goldencents - Sired by Into Mischief which has sentimental value since he is the sire of my friend George's new filly. Into Mischief's early success as a stallion leaves a lot of hope that he is every ounce of capable of producing a Derby winner. Goldencents ran 1st in his Derby prep race in the Santa Anita Derby. He's trained by Doug O'Neill who won last year with I'll Have Another. With post position of 8 he should get a perfect trip.
Itsmyluckyday
- My like for Itsmyluckyday is quiet simple. Lawyer Ron, his sire was one of my favorites on the track. Lawyer Ron passed away after only a few seasons as a stallion so this is one of his last chances to get a Derby placed horse. In his final prep race, he ran 2nd to a horse also on my list, Orb.
Itsmyluckyday will break from gate 12.
Lines of Battle
- The general theme for most my selections is the sire of the horse.
Lines of Battle
is the same way, his sire War Front stole my heart with his goofy personality when I met him at Claiborne Farm. His biggest battle is going to be adapting to the Kentucky environment. He just won the UAE Derby, half way around the world five weeks ago. Lines of Battle will be lined up next to Itsmyluckyday in position 11.
Orb
- My top top pick. My gut, head and heart are telling me I want him to win the race. He won the Florida Derby in his prep race for the Kentucky Derby.
Orb
is sired by the AP Indy stallion, Malibu Moon. One of his co-owners is the legendary Phipps Stables. With being a Phipps co-owned horse, it is essentially a given that he is trained by Shug McGaughey. Finally, he is ridden by last year's winning jockey, Joel Rosario.
Orb is in post 16, a little farther than I would of like to see but he should get a little less traffic and I believe he has talent to overcome any position.
Oxbow - Like Orb, Oxbow is a pick of mine because his connections are deep with history and tradition. He is trained by D Wayne Lukas, rode by Gary Stevens and starting in gate 2. Oxbow is also owned by Calumet Farm, the historic Kentucky farm. Oxbow won the LeComte earlier this year before finishing 2nd in the Rebel and fifth in the Arkansas Derby.
Overanalyze - It KILLS me to include this horse on my list because of his obnoxious (too nice of a word) connections. His owner is one of the most arrogant men in the game, not afraid to express my dislike of him either. I'm not a fan of his trainer either, but I do not have enough energy in me to type out my reasons and feel justified. Despite this, Overanalyze is sired by the now deceased stallion Dixie Union. Dixie Union's sire Dixieland Band is one of the greatest broodmare sire's in recent history. I hold hope that Dixie Union will carry on his sire's success as a broodmare sire. He is also set to be rode by Rafael Bejarano who is one of my favorite jockey's. He is going into the Derby off of winning the Arkansas Derby which has produced the Kentucky Derby winner more than any other race in the last 10 years.

Overanalyze will break from position 9.
Palace Malice
- Palace Malice is sired by Horse of the Year Curlin. Curlin is one of the horses that I actually liked despite his connections. Same holds for Palace Malice. He has the unfortunate fortune of being trained by same trainer as Overanalyze. He is also rode by my 2nd favorite jockey of all time, Mike Smith. He will be sandwiched between Overanalyze and Lines of Battle in position 10. He ran second in the Blue Grass Stakes at Keeneland on the synthetic surface and earlier in the season he ran third in the Risen Star. He has only one lifetime win to his name however, which was his maiden win in August 2012.
Revolutionary - Revolutionary joins Overanalyze and Palace Malice in the same trainer category. Todd Pletcher has 5 horses in this years race that he trains. If he's going to win, it just better be with one of these three. Revolutionary is owned by WinStar farm and was bred by W S Farish at Lanes End Farm. He is heading into the Derby with three straight wins, including the Withers and Louisiana Derby. Ridden by Calvin Borel, the 3 starting position is perfect for this team. Calvin "Bo-rail" as he's known will be trying to tie Billy Shoemaker to win his 4th Kentucky Derby.
Vyjack - Vyjack, also sired by Into Mischief like Goldencents.
Vyjack is the only horse that got gypped on post position since he will start in the 20th spot. He is being ridden by Garret Gomez, who I believe is a jockey just waiting to get a Derby win, his time will come, maybe this year?
Vyjack
won the Jerome and Gotham Stakes before his first loss in the Wood Memorial where he finished third. He will attempt to be the first winner of the Gotham to win the KY Derby since Secretariat in 1973.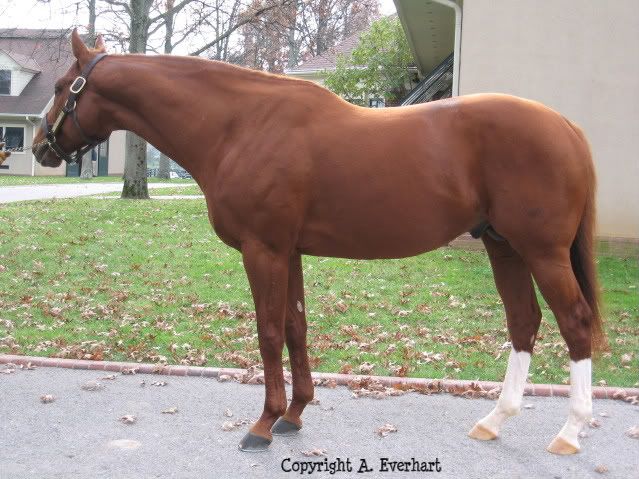 Curlin, sire of Palace Malace at Lanes End Farm.
Myself and Curlin